Visa Information
Any foreign visitors wishing to enter the Republic of Korea must have a valid passport and obtain a Korean visa before the visitation. However, people of 90 countries who wish to visit Korea temporarily are permitted to enter without a visa according to visa-exemption agreements or in accordance with principles reciprocity or national interest. More information about visa-free entries for foreigners.
Example of Entry Visa to Korea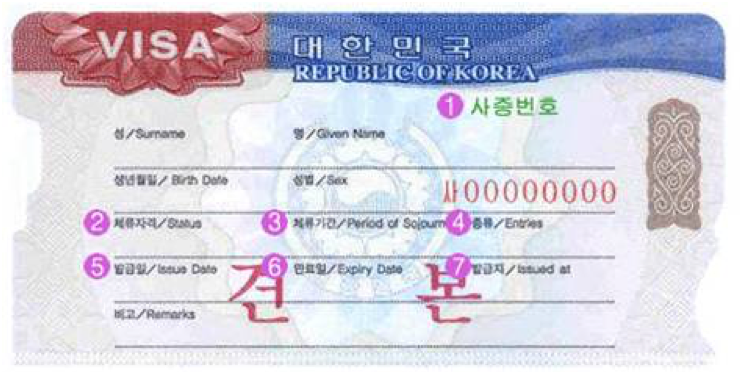 Contries under Visa Waiver Agreement
You can check countries under a Visa Waiver Agreement with the Republic of Korea. Depending on nationality and passport type, citizens from these countries can visit Korea with the purpose of tourism without visa for 30 to 90 days.
Check Visa Waiver Agreement
Click here for more information on visa.
Special Entry Arrangements for Jeju Island
Eligible Foreigners: Nationals of all countries are not allowed visa-free entry into Korea via Jeju airport for tourism or transit as these special arrangements are denied to those of the following 11 countries: Iran, Iraq, Sudan, Libya, Cuba, Syria, Macedonia, Palestine, Afghanistan, Nigeria, and Ghana.
Duration of Stay: Up to 30 days
Permitted area/range: Jeju Island ** This policy applies only to Jeju, not to the mainland of Korea ** A person transferring at Gimpo or Incheon International Airport needs to obtain a visa.
To Request the Official Invitation Letter
To request an official invitation letter, participants must complete the registration process first. If you need a letter of invitation for participating in the RE'19, Please send the request email to RE'19 Secretariat.